Michele Tse
NPAA-IFPA, WNBF Pro Figure Athlete

My name is Michele Tse (nee McLaughlin) and I'm a retired NPAA-IFPA-WNBF Pro Figure Athlete with an extensive background in health and wellness. My credentials include:
B.H.Ecol., Foods & Nutrition, University of Manitoba
CSCS Certification for Personal Training, National Strength and Conditioning Association (NSCA)

Traditional Chinese Medicine Doctor, Alberta College of Acupuncture and Traditional Chinese Medicine (ACATCM)
I have developed this website as my way to give back for all the wonderful knowledge I've acquired over the years.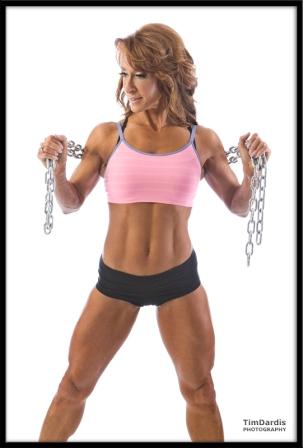 My Journey
I've been active all my life, but my health and wellness journey really began at the age of 19 when I saw a female bodybuilder being interviewed on TV. She explained that you could sculpt your body to look any way you wanted through diet and exercise. Being the 'stick girl' that I was, I decided I was going to test her theory and joined a gym the very next day. I put in the time, learned proper technique, and began eating more whole foods and less processed foods. It took some time before I started to see changes but once I did, I was hooked.
My journey continued over the years. I found my calling as a powerlifter and competed for a couple of years before returning to university. Armed with a degree in nutrition and later the CSCS Certification, I felt ready to help others on their journey toward a better quality of life. This was a rewarding career, but as time passed, I developed an interest in natural medicine and returned to school once more, all the while learning more about health and wellness and maintaining my healthy lifestyle.
A couple of years ago I felt I was in the best shape of my life and decided Bucket List: I'm going to compete in a figure competition. I had secretly wanted to do this all my adult life but never thought I could pull it off. I trained hard - very hard - and I learned a lot about eating for competition.  I entered my first competition in 2011 and ended up winning the novice figure category and placing second in the masters figure category. Not bad for a 47 year old. The training, the stage, the lights, all the wonderfully supportive people I met...I was hooked once more!
I competed in two additional figure competitions in 2012 and earned my NPAA Elite-Pro Card and my IFPA Pro Card. The following year I made my international debut at the 2013 Yorton Cup and continued training and competing through to my 50th birthday. I hung up my glam shoes and posing suits at the end of 2014. It was a great ride and I'm grateful for all the adventures, friendships, and memories this industry has given me.
The next chapter of my life is all about staying healthy and happy as I set out on new adventures. I'm loving my life and my journey.
My Motto: "No Limits"
My Message
No matter where you're at right now, you can make improvements toward better health and wellbeing. Just start with small changes and use your focus and determination to keep you on your healthy journey. This website is filled with tips on how to improve your health and wellbeing and is my way of giving back. The site is available to anyone who wants to make changes toward a healthier and happier lifestyle. Put to good use whatever information works for you. Enjoy!
---
Return from Michele Tse to My Health Site Home Page
---
The contents of this site are the opinions of Michele Tse unless otherwise noted. The information on this site is intended for general informational and educational purposes only and is not a substitute for professional medical or nutritional advice or treatment. Please consult your health care practitioner before beginning any fitness program.